I know I've been on a bit of a black out of late, with just the odd Tweet, and even less blogging.
I don't think I'm quite ready to address what caused this, mainly due to waiting for the information to be public knowledge.
But, when my latest SimplyBe purchase arrived, I couldn't wait!!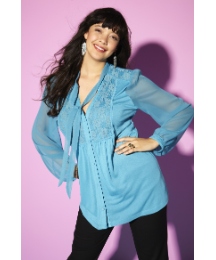 I would say that I ordered this thinking that I could wear it with trousers / jeans, given the photo, but when it arrived, it was clear that my curvy kates would make it hang higher than on this lovely girl. Instead, I've styled it with my Domino Dollhouse skirt, and think that it looks pretty darn good!
The colour is divine, and the buttons don't gape - always a bonus!
Well done SimplyBe, you've done it again!!