Last weekend I had the great pleasure of my first house guest! The lovely @catsuitcity popped up from Manchester for chats and funtimes in Casa Kathryn.
You saw in my last post, what I wore to meet her from the train. After a quick tour of Casa Kathryn, we headed to the fish & chip shop for pre drinking food. Perfect way to start the weekend I reckon!
I wanted to share this with you again, as it was the first time I wore it with a petticoat:
The drinking had begun already, hence the funny face!!
After a class night out, involving dance offs, multiple cocktails, and following 'guys in red shirts', we returned home, dignity intact! HURRAH!
Hungover face:
Order of the day on Saturday was hangover food (and a sneaky haircut for me). We set off for Pizza Hut in the Metro Centre, which I have to say, cured the post drinking headache very nicely.
As we were near Yours Clothing, we headed to scope out Fat Shopping opportunities. I'll be honest, the store was cramped and cluttered, so the stock wasn't easy to see. We left empty handed.
We wandered aimlessly about for a bit, before heading over to Evans to see if there were any pictures of the new Clements & Riberio campaign. It was wishful thinking, I know, but it also meant I could try on this wonder:
From the Scarlett and Jo range, this navy blue dress, with wrap detail AND a skater skirt just begged me to buy it! I'd seen the lovely Rosie and Becky rocking it, so KNEW I'd love it on. And I did! I'm planning on wearing it to a Diamond Wedding Anniversary party, so will blog it in a little more detail then!
I came out of the dressing room for Rachel to snap this picture, and was complimented by the changing room attendant for the dress fit, and told, if she looked like me, she would TOTALLY own this dress. I just said she should wear it anyway, no point waiting. She muttered that it wouldn't work on her size.
I'll be honest, it made a little sad that this was the attitude, although not surprising given the fat hatred on their Facebook page - if their staff doesn't promote body positivity, how can their customers?
Whilst in Evans, Rachel and I came across this wonder:
Skater dress - CHECK
Bright colour - CHECK
So why didn't I try it on? Because it was dual sizing. Rachel and I spoke at length with the lady behind the counter about how frustrated we get when a brand has dual sizing - it means the dress in the 22 - 24 would be too big on me, but too small on someone a 24. But remember, it is the DRESS at fault, not you.
Feeling rather happy with myself, we headed to the bright, airy, calm environment of Simply Be.
We were met by Ruth, who recognised me from past visits, and given time and space to peruse the stock! I was wanting to try a couple of new bras on, so was advised on what size to try based on my existing one.
I took along with me to the changing room this: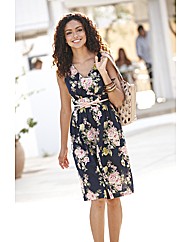 And made it look like this:
Perfect for the summer in the office! Or you know, out and about when the sun finally gets here!!
The bras didn't work on me, but Ruth explained nicely that just because a bra fits, doesn't mean it works for my shape. These didn't work for my shape AT ALL.
Ruth also convinced me to buy this:
Gorgeous collar necklace! I just LOVE the stud detail, and that it adds a certain edge to my outfit!
However, my shopping wasn't done - when paying, a customer was looking at this coat: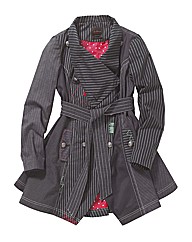 And look how happy it made me!!
This was the end of my great Fat Shopping expedition. We left tired and happy with our buys, and had had an AMAZING day. And look we even managed to snap a picture of the lovely Ruth, who made my shopping in Simply Be go from "Cool", to "Totes Amaze-balls . There, I said it!!
So, Newcastle & Gateshead are getting better in helping us have a Fatty Friendly Shopping Experience!
Much love my lovelies,
K x