Now, I may have failed Frugal February in a rather dramatic fashion (lattes and chocolate and clothes!) but more on that later!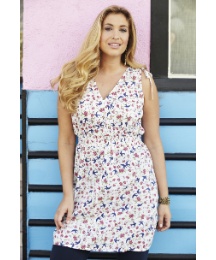 And while I liked it in the white, I loved it in the navy blue:
Jeans: Evans (Last season)
Shoes: Joe Browns for SimplyBe
While this dress may well be called a dress, there is no way I can wear it with leggings, but as a top with jeans it is perfect! I can see me wearing this with cut off jeans when the weather allows!
It is elasticated at just about the waist, so skims over my tummy rather nicely!
It is a sleeveless top, but that's fine, in the summer I can't wait til I can - but for the Spring, this is is perfect, jeans and a pair of Joe Browns ballet pumps:
How pretty are they?! They come in fushia as well - but I'll see how well they last first, before I decide whether to invest in a pink pair!
Added perk: a free shopper! Perfect!
So yes, SimplyBe is a my reason for failing Frugal February!