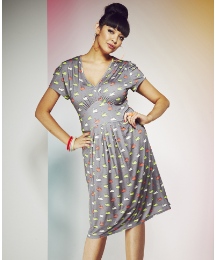 This dress sang to me. The swan print was quirky, the dress a familiar cut - see this:
I have this dress in a 22, and it has now stretched a little, so I opted for the swan print in a 20.
I know the dress is a little short, but I honestly don't mind! I'm not wearing tights / leggings / jeans with this dress to show you just how short they are - although I am starting to realise that part of it is my 'ample rear' making the dress shorter at the back!
That picture on the lower left is to show how with a bit of angles, and sucking in, my waist may be tiny, but my T&A remain - so even if I was to lose bits and pieces from me, I would still be a 'curvy' girl in the pure sense of the word.
K x