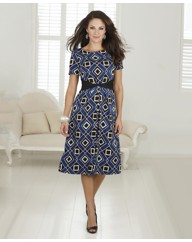 I have been in love with this dress from Marisota since I was introduced to them by Becky featured them in January. I had a little bit of a nose, and followed them on twitter. Then this dress called to me:
I don't know why. It might have been the colour, the pattern, or the illusion in the waist detail, but it leapt off the screen at me.
When Marisota offered a 'buy a dress, get a handbag free' (which didn't apply to this dress by the way) promotion, as they did on 8 May. It arrived 12 May, and I quickly unwrapped it from the box (yes, BOX) that it was packed in.
Now, I'm in between sizes at the moment, depending on the dress / fit / material. I opted for a 20 (silly). And it looked like this:
Which all in all, does not look that bad. There is some boob squishing, but that does not altogether, look 'bad'.
The material is not 'itchy' as it looked, and was a smoother material than, say, the Red Car Blue Car dress.
The black band sits in the right place on me (I opted for the 41" length), and dress sits just below my knee.
So far, so good.




But then we get to the rear. It seems my rear is more ample that I'd originally thought!
The dress does not sit right (you can tell by the wrinkles in the small of my back), and the material pulled over it.
Length wise though, this 41" dress is perfect. I wouldn't have to keep pulling it down, I could wear it with tights AND heels confident that my legs, and my knees, are covered!


So now I know. If I wanted to try this again, I would have to size up to my usual 22, but if I did, not only would I have the lovely print above to wow the office with, but I could also choose this eye popping green: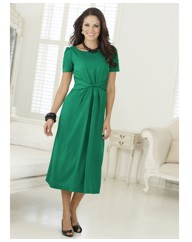 You've got to admit, it would look great with my hair!
Much love my lovelies,
K x