Well, the first thing is a disclaimer: I am not a man. There, I said it! I might not be a man, but I can certainly give my opinion freely (me, opinionated? Nooooo, really?!) on the opening of the first EVER store in the MetroCentre in Gateshead. Yup, the first ever store. Which is a sign of the amount of demand for online retailers to branch into the high street - take note, high street brands shutting stores, TAKE NOTE!
When I heard that they were opening in the MetroCentre, along with SimplyBe, I had imagined a two floor shop. Makes sense, right?
Oh no, it is much better than that - it is in the same space, but with a mezzanine level, splitting one store into two! SimplyBe have the 'ground' floor, with Jacamo situated on the mezzanine above. Each store have their own staff, own changing rooms, and most importantly, their own Magic Mirror!
And this is how the two stores look:
For those wondering where this is in the MetroCentre, Debenhams is to our right, so I'd recommend parking in the red multistory car park, for easy access!
At 5pm, LadyfromaTramp and I made our way up the store, ready for opening! Instead of heading upstairs though, we had a sneak peak around SimplyBe first, as I had to return a parcel. I had a bit of a mooch, but did not spend long enough in store to be able to review it - that will come at the 'official' launch on 2 May, although the store is open to the public now and is fully functioning!
Once upstairs, it was as if it was a completely different store (well, duh, yes it is!). It have a Urban Outfitters feel, with distressed walls and flooring, all metal and wood and industrial. In a good way. NOT in a 'The Cut' way (above TupTup Palace in Newcastle).
The lighting was different, the styling was different, but the feel was the same - welcoming, friendly, and most of all, accessible. I didn't try the lift, but there is one, and the stairs are sweeping and easy to climb. The clothes are spread around the store, meaning no need to squeeze past people.
The clothes are laid out in clear sections, with the 'labelled' items, such as Penguin and Henley being separate from the likes of Joe Browns and Weird Fish.
There are a variety of options: longer length leg, from 29" - 33"; longer length tee shirts, and button shirts. There was the full range of sizes, from M - 5XL (so no having to order in the bigger sizes, therefore defeating the point of the store itself) available, and because of the M, it meant that the male shop assistants were dressed in items available from the store - again, something which is great to see.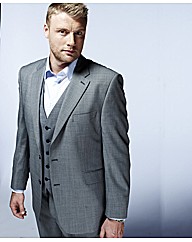 I had to include Freddie
in one of his suits.
There was a well stocked shoe department, providing anything from deck shoes to the more formal brogue to complement the tailoring section, where a 3 piece Freddie Flintoff suit would set you back £170.
And this brings us to Freddie himself!
I'm going to admit, I don't know much about Cricket. Or Freddie. Or his mate Steve Harmeson. But I do know that they stayed and chatted with the crowds, had numerous photos taken, and were as genuine as they seem.
And yes, while I was there, I did buy a couple of things. I wanted a hoodie with a zip to snuggle in, and that would zip past my chest - so I purchased the blue zip hoodie worn in the very top photo, and I also bought this:
Joe Browns shirt - £42
I can't wait to wear it with black skinny jeans!!
So, there we have it. A plus size store for men in the North East. Long may it remain, and expand!
Much love my lovelies,
K x
Oh, and the great thing is, you can pay on your account, AND get items delivered in store. So no waiting for the courier. No faffing on waiting to arrange collections. Perfect!