After the teaser video above was launched a few weeks back, it's been rather quiet on the #sbdenim front - until today!
The humble bootcut.
The jean we were told in the late 90s balanced out our hips, and became the go to denim of choice for thousands!
I feel it's fallen from favour a little, instead we reach for the boyfriend, or the skinny, or the jegging.
But the bootcut has it's place too.
Teamed with a simple and sexy bardot top, you'd have a classic look: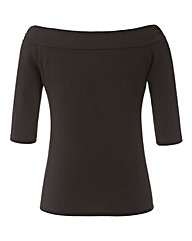 Or how about going a little statement, a little out of your comfort zone perhaps, with a bold colour:
But you have the feeling of comfort with your faithful bootcut jean - it's like they're a fashion gateway into more adventurous dressing!
So my lovelies, are you an #EveJeansGirl?
Much love,
K x