Pants that is. I'm rather impressed that I've made it to 5pm at work, and no one, NO ONE has a negative thing to say about the 'Gymnast' pants:
Now, calling them my 'Gymnast' pants does imply that I have negative feelings about my latest foray into fashion.
I really don't!
I was so happy about them this morning when I instagrammed the HELL out of them (MissKathryn84)
So shiny and blue and unlike anything I OWN!
This is how they are meant to look on: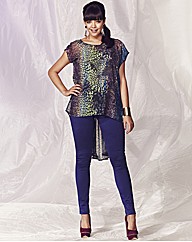 I sized up (after having a disheartening 'these don't fit' moment with the floral trousers earlier in the year), and first thing this morning, I was comfy and happy with my new trousers.
They fit close to my body, like a second skin!
I ended up with a booty that I envied (how is that possible?!)
And, teamed with a summer dress (as the trousers were rather warming!), it made what I thought, the perfect combination!
But having worn this all day, I just feel like I've let the trousers down a little. I hope to live up to their promise later, and maybe show off my FUPA, but today, I feel like I sold out on them.
I wanted to see if they were work appropriate, and I don't really think that they are, not for me anyway.
As I'd got the 22, I found them slipping down, with the crotch about 6 inches lower than where it should have been, and I could pull them up / down without undoing the zip & button.
The length is perfect, if not a little long on me, but I do hope if I was to size down to a 20, that the leg length would be a better length for me. Although, I'm sure if I wore them with heels, not flat Primark brogues, it would look a little better!
We'll see how they wash, and odd though it may sound, I would like them to shrink just a LITTLE in the machine!
Hopefully, you'll be able to benefit from my mistakes (see, my blog name is accurate!), and get the perfect fit for you!
Much love my lovelies,
K x
This item was sent to me to review, but my words and opinions are my own x