Hello you lovely lot!!
A while back I did a couple of reviews on Simply Be's Glamorosa range - looking at the tunic and the long line top. I was also sent this top: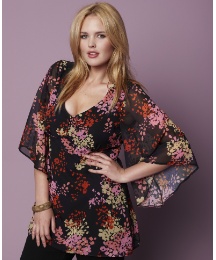 The colour tones screamed autumn to me, but with the weather we've been having recently, it didn't seem appropriate, but now the weather is 'closing in', and the nights are getting darker, it seemed an ideal time!
And here it is! I teamed it with my Simply Be green skinny jeans to pick out the green in the design
And this is 'money' shot, showing the cut and fit of the Glamorosa element of top. It fits the curve of my bust perfectly, and skims over my bloated tummy - what the top lacks in 'pretty', it makes up for fit!
I don't quite know what I was doing in that photo! Pulling my ear for some reason or other I'm sure!
The observant readers amongst you will have noticed my old hair - these photos were taken a few weeks ago, in the middle of an 'autumn' spell, but then the heat came and it, well, didn't seem appropriate!
As you can see, the V neck isn't too revealing, and the button detail doesn't gape - and if it happened to gape, there is a modesty panel under the buttons: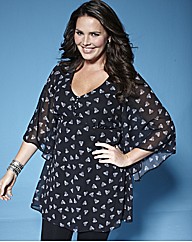 This seems to be their 2012 take on the top I've just reviewed, and in this top I'm wearing the Very Voluptuous, and as you can see, it is a perfect fit on my 36H.
Go forth and check it out yourself!
Much love my lovelies,
K x
Please note: this dress was given to me to review, however my opinions and comments are my own.