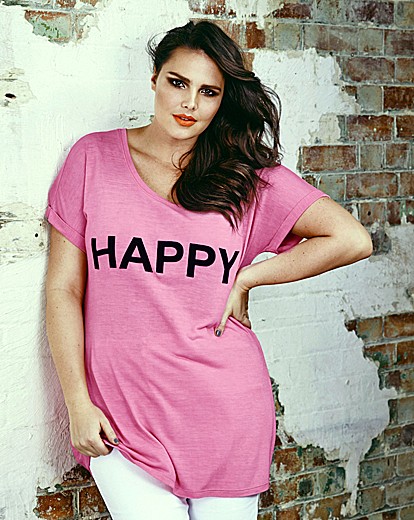 When this tee appeared on the Simply Be website, just as I was about to place an order anyway, I didn't think twice about adding it to my basket.
Once it arrived I threw it on with a pair of jeans, and pottered about the house with it on. I stupidly sized up to a 22, and I really possibly could have got an 18 if I wanted it more fitted, or stuck with a 20 for a loose fit.
As it was, the 22 wasn't so bad:
But I wanted to see if it was a little more versatile - having seen it styled on the Simply Be website like this:
I wanted to see how it looked as an oversized top in a skirt combination.
Instead of going for my usual Collectif skirt, I opted for this from ASOS:
Apologies for the poor picture, I'm house sitting right now and it's the best I have!
This midi skirt is the right colour to highlight the navy writing, and means all the attention is on the top.
I have been in the office for a couple of hours already, and I have people smiling at me, singing Pharell's Happy at me, and generally, being a conversation starter!
What more do you want from a tee?
One thing I will say though, is that this is rather see through, and so my Satine padded bra from Bravissimo is a MUST!
Much love my Happy lovelies,
K x