There is a lot of pressure attached to NYE, isn't there. The 'ideal' night. Which, lets face it, changes every year. And is different for each of us.
This year, we struggled to pin down a date for a pre Christmas night out - just too darn busy! - so we settled on the Friday after Christmas.
It was only as the Friday got closer, that it dawned on me that we didn't NEED a NYE any more - we made our own NYE 4 days beforehand!
In our group, I am the clear odd one out. They are the (mostly) black haired, black wearing group. I am the red-headed, colour crazed one!
So when I was on the look out for my sparkly Christmas night out dress, I was keen to give this ago - mainly because it was black, studded (but shiny studded) and yet still in a Kathryn style, style.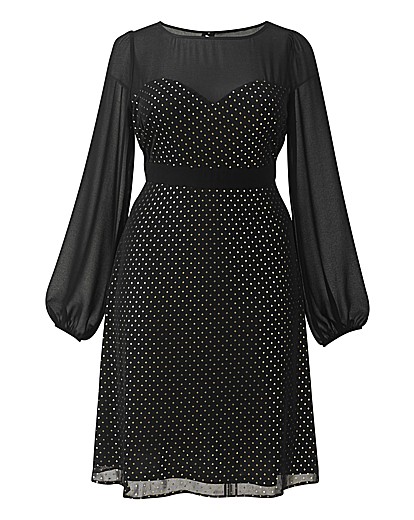 This Grazia for Simply Be dress was the one worn by Rosie in the Simply Be Renaissance Bloggers photo shoot, and since then I had been keen to give it a go!
It was love at first try on!! :)
And once a baroque style necklace, and my face of slap was added, it was set - my new go-to dress for nights out!
However, it was only once I added a borrowed jacket, that the full "1 2 Goth Crew" came together:
It was one of those "Why have I never actually owned a jacket like this before" moments. I am currently weighing up my options, but it pulled the whole outfit together, and well, yes...
I didn't spend my evening taking selfies mind. No, I spent it drinking at a friends, before drinking, and loving, a couple of cocktails at a bar in Newcastle:
The Caesar (or Bloody Mary)
The Mexican Bulldog (or Corona Margarita)
Before heading to the Head of Steam for some dancing. A pal runs a club night there called No Fun, playing good tunes, like Sheena is a Punk Rocker, Pretty Vacant, Carnival Kids, that one by Weezer about surfing, Cool Jerk, Fell in love with a Girl, and after that the night got a little fuzzy...
I then handed the leather jacket back to it's rightful owner:
Reminisced with this excited Alice:
Sorry Alice!
And wished this Holly a Happy New Year:
A class night out with a class bunch of people.
So, who needs a night out where you fight to get to the bar, have to pay to get into a bar you wouldn't normally, and pay double to get a taxi home?
Exactly. So my Fake NYE plan was a success. And No Fun was exactly the opposite.
Much love my lovelies,
K x