The humble biker boot.
A trend that has been around for a number of winters now. And I should know - my best friend seems to have every different pair of them going!
But the past few winters, my preoccupation wasn't with my feet, but with the rest of me. Now I've got to grips with how to dress for winter (without falling into the fuddy knitwear trap), this winter was the turn of the footwear!
I'm usually spotted in ballet pumps in a snow storm. Ballet pumps in ice. Ballet pumps in floods. You get the picture.
When browsing the footwear section in September (yes, that long ago), I spotted these Joe Brown for Simply Be boots: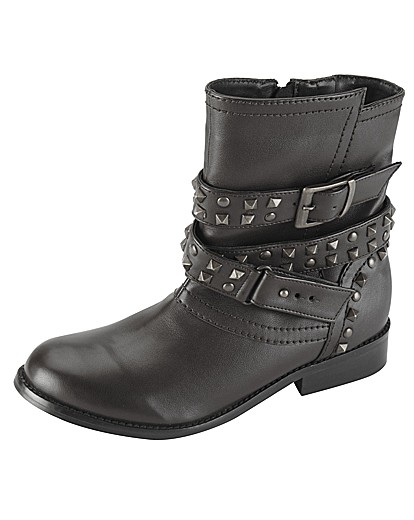 The zip up fastening means they can be slipped on in a hurry, no messing on with buckles, or laces, or tongues (my Clark brogues are a nightmare due to the tongue slipping into the shoe when I try to put them on!). They go rather well with my girly dresses:
With my flirty skirts:
And with my lush tunics:
And if I ever get my hands on the leather jacket I have pictured in my head, a proper tough girl attitude will come with them!
For now though, they are comfortable, cosy, and that little bit of heel makes me walk a little straighter. Some in the office may say stomp. I say strut. Never mind!
What I'm trying to say, poorly, is that these are boots that a year ago, I would have shied away from. Whether out of fear that they were too "Goth", too "Rock", or too "hard" for me (when I spent most of my teens listening to Black Sabbath, Deep Purple and Led Zeppelin", or whether I thought they wouldn't work with my bright colours, pretty prints and girly cuts, I don't know.
What I do know now though is: I'm glad I popped them into my virtual basket in September, and I'm wondering what style I'll be trying next!
Much love my lovelies,
K x