We've all heard the 'rules', haven't we. Fat people should wear black, avoid print, stay away from bodycon. Slowly I am shaking off these rules, and wearing what I want to wear, how I want to wear it.
Recently, I've noticed my clothes loving heart singing at the lighter range of colours. Pastels, beige, heaven forbid - WHITE!
My recent dalliances with pastel colours involved this dress from Simply Be: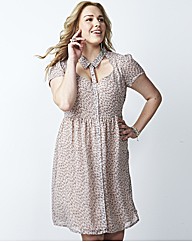 I loved the idea of being all buttoned up, but still showing flesh! I was concerned though, that with the buttons, I'd be in a gaping situation - and it is a pet peeve of mine that most of my shirts need to be worn open with a cami underneath as the buttons gape - but after a chat with Becky and Rosie, I decided to give it a try.
There is some pulling at the buttons, but no signs of gaping. I was sold!
Unfortunately though, I was wearing this with a full cup bra from Elomi, which meant this happened:
I didn't find the brown lace that much of an issue, as it complemented the pale hues in the dress, but I knew that this was discounted from being a work dress!!
After a trip to Bravissimo for a fitting and a couple of plain white / black bras, I tried the dress on again, adding my new denim jacket for added style!!
And no bra showing!! YAY!! The Bravissimo Satine is my go to plain bra for the moment!
Now that I have a plain moulded cup bra, I was also able to wear my new Glamorosa item - the lovely layered shirt tunic!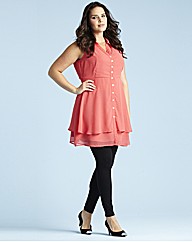 Pictured here in the coral, I opted for this in the Nude, and as always, went for it in H - K (having recently refitted as a 34J, I knew that this was still a good fit option for me!).
This top is an ideal top for me - it fits my bust, pulls in my waist a little, and is wonderfully floaty and almost romantic in the way the material falls on my thighs.
I waltzed around the metrocentre all bare arms and proud and LOVED it - but I think that was mainly to do with the fact that this top fits under my arms. Most sleeveless tops gape at the underarm, showing your bra to the world - another reason I rely on shrugs and cardigans - but the better fitting items DON'T. So don't be settling for tops that gape, thinking that they fit - as they should fit snugly under the arm too.
Much love my lovelies,
K x