In this post, I talked about adding a leather biker type jacket to the outfit to take it into the winter months.
I then couldn't get the idea of a leather biker jacket out of my head.
I trawled plus size fashion sites for a number of options. There are some beauties out there, but I rather liked the dual texture of this from Fashion World:
The (p)leather detail on the shoulders and the tops of the arms of the jackets nodded to the biker jacket trend, without screaming "I'm wearing a biker jacket" at the world!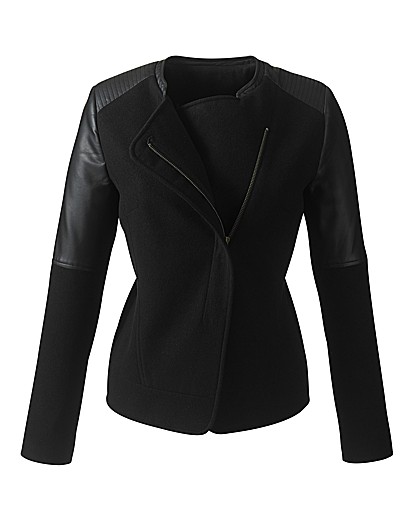 The cut of the jacket is what I would expect from the biker style, and the short Grandad type collar also piqued my interest.
How did it look on? Well:
Worn with my Chambray dress, and a pair of dolphins (Submariner emblem) from my Dad.
Worn here with a swing dress and black jeans.
Now with my Collectif skirt and tee combination.
Just because it is a 'biker' jacket, with (p)leather accents, doesn't mean I have to alter my entire wardrobe. I still wear it with pretty dress:
And I'll be honest, I happily wear it to the office, regardless of the type of dress day it happens to be!
I'm wearing the 22, as with winter jackets you want the extra room for layers, and maybe a scarf - and with just a cardigan under this, the jacket is a little tight over the bust. I can fasten the zip fully, don't get me wrong - I just prefer it have it half fastened at the moment!!
The sleeves do come up a little shorter than I like on me, but as the winter draws in, I'll be rocking fingerless gloves with this anyway, so my wrists won't be exposed for long!!
For my first step into this style of jacket, I am a happy fattie with this!!
Much love my lovelies,
K xx
This item was donated to me to review, however, this does not impact my views :)