A month ago, I was given the chance to choose a pair of shoes to review from the Barratts website.
I didn't have to think too hard on what type I was looking for - Brogues.
I am a sucker for a pretty dress and pair of brogues. Just something about that combination is my 'go to' for the office. I get to be feminine and efficient at the same time. Due to back problems, I can't do heels very often, so flats are my only option. And brogues? They take me back to a 1940s aesthetic, where comfort sees us out in the end!!
So which brogues have my feet been navigating the world in this past month?
When they arrived, I was taken aback by the pretty floral inlay:
The leather laces are a nice touch, and rarely do I have to stop halfway through the day to tighten or re tie my laces. These are the shoes you attach to your feet and can almost forget they're there. Except when I walk across a non-carpeted surface - they have a satisfying sound as they hit tiled floors!
The month of May has seen them face deluges along my high street, hot Summer-like hours in the office, followed by Brownie meetings playing games and singing songs.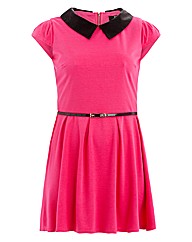 I am currently saving up for the dress in hot pink, but HAD to try in Aqua:
See, pretty dress, gorgeous brogues. Perfect combination!
The dress came with a thin belt, but as with some plus size dresses, the belt isn't actually big enough for the size 22 dress, but I felt the cut and fit of the dress meant I didn't need the belt.
A lovely touch to the dress:
Was the PU leather collar. I felt this added a certain 60s flavour to the dress, and certainly took it from a plain skater dress which are around in force this season, to a skater dress with a difference!!
This outfit could easily have been worn in the middle of winter (adding a thick boyfriend cardigan) or the middle of a very British summer!
So thank you to lovely people at Barratts for keeping my feet dry and stylish this past month - and the shoes are still going strong!!
Much love my lovelies,
K x